7 Oktober, 2016
Indonesian Apem Ruwahan Recipe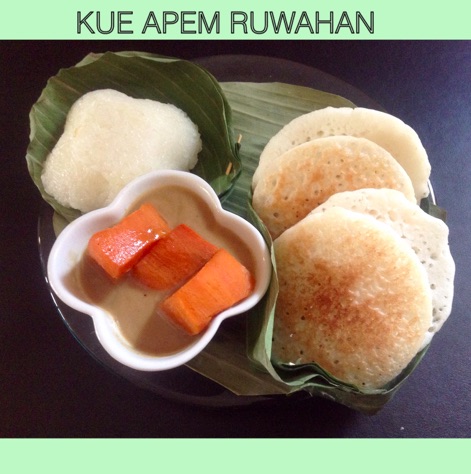 Posted in :
Indonesian Food
on
by :
Mama Ayi
Ingredients:
120 gr rice flour
1 tbsp cornflour
240 ml coconut milk
40 ml of warm water
1 teaspoon / 5 g yeast
1 tablespoon sugar
a little salt


For brown sugar sauce:
100 grams of brown sugar
100 ml water
1 pandan leaf
2 tablespoons coconut milk
Cook the brown sugar, water and pandan leaves until slightly thickened, put in coconut milk.

How to make Apem Ruwahan:
Mix warm water, yeast and sugar, stir with a spoon and let it stand. Mix the rice flour, cornflour and a little salt with a whisk. Then put in the yeast mix. Put the coconut milk, stir well and let it stand for 45 min.
Prepare a small frying pan, cover with a little oil. Pour 1 spoon of the mixture and cover the pan until cooked.

Cassava Kolak for Side Dish:
300 gr potatoes, cut
100 grams of brown sugar
water
3 tbsp coconut milk
cinnamon
clove
pandan leaves

How to make Cassava Kolak:
Cook water, brown sugar, pandan leaves, cinnamon and cloves to a boil. Put potatoes that have been cut. Once the potato is soft, pour coconut milk.

Serve apem with cassava kolak.