5 Oktober, 2016
Schuimpyes Recipe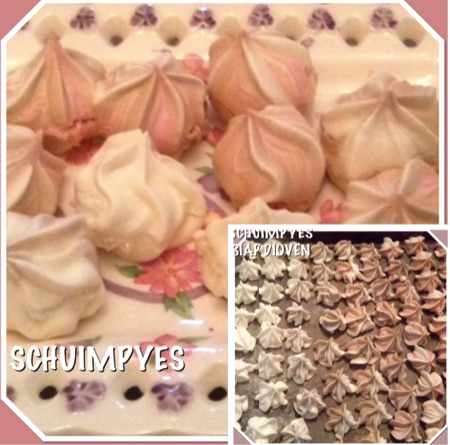 Posted in :
Indonesian Cake
on
by :
Mama Ayi
Ingredients Schuimpyes:
80 cc egg whites
150 gr + 3 tablespoons powdered sugar
½ teaspoon cream of tartar
½ tsp vanilla
4 tablespoons cornstarch
1 drop of chocolate paste
1 drop pasta Strowberi

How to make Schuimpyes:
Mixer egg whites until stiff. Then put ½ teaspoon cream of tartar while still dimixer. Put sugar 1 tablespoon per 1 tbsp. Put cornstarch and vanilla. Prepare plastic triangles, put the syringe star put on glasses (so easy to put this dough).
Put the white dough, the dough is given a chocolate pasta and pasta dough by strawberries. Prepare a baking sheet with baking paper give / reviews margarine. Start with syringe Put the dough on a baking sheet.
Preheat oven 150 C / gas mark 2. Put the pan in the oven 35 minutes. Turn off the oven let the pan remain in the oven for 15 minutes. Serve.