7 Oktober, 2016
Cauliflower as Substitute for Rice Recipe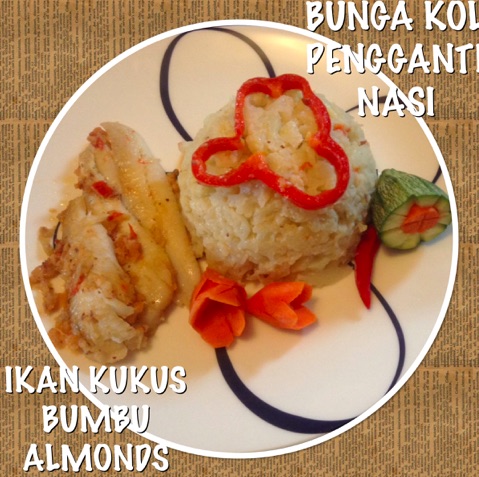 Posted in :
Indonesian Food
on
by :
Mama Ayi
Ingredients for Cauliflower as Substitute for Rice :
1 cauliflower, finely chopped
salt

Seasoning for Cauliflower Rice:
¼ onion, finely chopped
1 garlic clove, finely chopped
olive oil for sauteing

How to make this dish:
Steam the chopped cauliflower with a little bit of salt until cooked. Sautee onion and garlic. Then put in the cooked cauliflower. Stir well.

Side dish Steamed Fish with Almonds:
7 pieces of fish filet
7 almonds, mashed
¼ onion, crushed
1 garlic clove, crushed
1/3 red pepper, crushed
a little ginger, crushed
salt

How to make Steamed Fish with Almonds:
Steam the fish with salt. Sautee the spice. Then put in the fish but cook it only for a brief moment. Serve.