7 Oktober, 2016
Wrapped Enoki Mushroom Recipe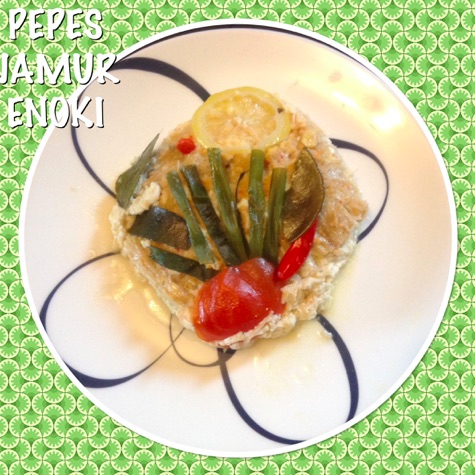 Posted in :
Indonesian Food
on
by :
Mama Ayi
Ingredients Wrapped Enoki Mushroom:
1 pack of enoki mushroom

Seasoning Wrapped Enoki Mushroom:
3 shallots
2 garlic
2 hazelnut
kaemferia galanga
little coriander powder
lemongrass
galanga
ginger
2 bay leaves
1 egg, beaten
1 tbsp thick coconut milk
½ red pepper
1 cayenne pepper, left whole
tomato slice
yellow lemon slice
2 lime leaves

How to make Wrapped Enoki Mushroom:
Puree onion, garlic, nutmeg and cayenne, and stir-fry. Put powdered coriander, kaemferia galanga, salt, lemongrass, galanga, ginger, bay leaves and orange leaves. Then put in the enoki mushrooms.
Put coconut milk and beaten eggs. Give chives, cayenne pepper, tomato, lemon yellow, lime leaves and bay leaves. Steam for 25 minutes, until cooked. Serve.